Veneers: 5 Ways to Improve Your Smile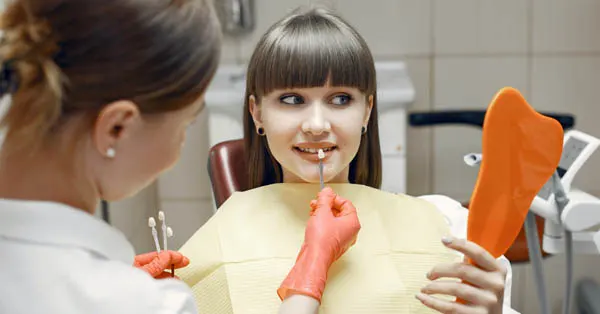 Veneers: 5 Ways to Improve Your Smile
A captivating smile can brighten up any room and leave a lasting impression. However, not everyone is blessed with naturally flawless teeth. Luckily, modern dentistry has introduced an incredible solution: dental veneers.
Your smile can be transformed, and your self-esteem can be boosted with dental veneers in Old Tappan. Let us explore five remarkable ways veneers can improve your smile, leaving you with a set of teeth you'll be proud to show off.
Benefits of Dental Veneers in Old Tappan:
Enhanced Aesthetics:

One of the primary benefits of veneers is their ability to enhance the aesthetics of your smile. Veneers can effectively conceal imperfections whether you have chipped, discolored, or misaligned teeth.

Crafted from thin shells of porcelain or composite resin, veneers are custom-made to fit your teeth seamlessly, giving you a natural and picture-perfect smile. The veneers' color, shape, and size are specifically chosen to complement your unique facial features, resulting in a smile that suits you perfectly.

Instant Whitening:

Dental veneers in Old Tappan can instantly brighten your smile by covering stained or discolored teeth. Whether your teeth have become dull due to medications, age, or lifestyle factors, veneers can provide the shining, long-lasting white smile you've always desired.

Correcting Dental Irregularities:

Veneers can address irregularities like crooked or misaligned teeth without requiring lengthy orthodontic treatments. Dentists can create the illusion of a straight and uniform smile by placing veneers on misaligned teeth. This not only enhances aesthetics but improves the overall functionality of your teeth, making them easier to clean and maintain.

Filling in Gaps:

If gaps between your teeth make you hesitant to smile, veneers can provide an effective solution. These thin shells can close gaps and create a more harmonious alignment. Dental veneers in Old Tappan are carefully crafted to match the size and shape of your adjacent teeth, giving you a seamless and natural-looking smile.

Durability and Longevity:

Veneers are well-known for their durability and longevity. With proper care and maintenance, veneers can last for many years, making them a worthwhile investment in your smile. Yet, regular brushing and dental check-ups are essential to ensure the longevity of your veneers and maintain a healthy smile.
Enhance Your Smile Today with a Trusted Dentist Near Me in Old Tappan:
If you dream of a bright and confident smile, dental veneers in Old Tappan can be the transformative solution you've been looking for. With the expertise of our dentist and her team at Precision Dentistry, you can explore the remarkable benefits of veneers and their ability to enhance your smile.
Veneers offer a range of advantages, including enhanced aesthetics, instant whitening, correction of dental irregularities, and filling in gaps between teeth. Crafted to seamlessly fit your unique smile, veneers provide a natural and picture-perfect appearance while improving the functionality of your teeth.
Not only are veneers durable and long-lasting, but they also require regular brushing and dental check-ups to ensure their longevity and maintain a healthy smile. If you're in search of a dentist near me in Old Tappan, consult with Dr. Wai Kee Fung and her team at Precision Dentistry to discover if veneers are the right solution for you.
Your journey to a stunning smile awaits! Book your appointment right away and unlock the transformative power of dental veneers in Old Tappan. Call (201) 666-8811.